Benefits
- Durability: resistant to weather and corrosion;
- Greater flexibility for projects due to color options;
- Easy installation ensured by standard parts and simple assembly by just fitting the parts together.
Features
- The Aquapluv line consists of gutters, downspouts and connectors produced in PVC with anti-UV additive that protects system parts against the action of sun rays;
- Available in beige, adapts to different project styles;
- Vertical round downspouts;
- Gauge: 88 x 100 mm;
- Smooth internal surface;
- Secure fit of parts;
- Simple installation: connectors with eyebolts for direct mounting to the already existent fascia boards and seals;
- Brackets available in two versions: PVC and metallic, painted in the gutter color.
- Reference Standard: NBR 10844.
Instructions
Installation of the Aquapluv Round Downspout Adapter happens through simple fitting at the end of the downspout. In the product data sheet, you can check out the step-by-step.
ESPECIFICATIONS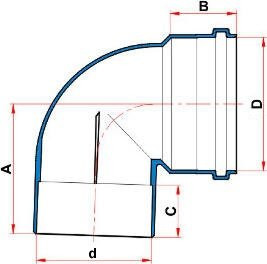 Make the interconnection of the Aquapluv Circular Guide Pipe with Sewage Pipe or Sandbox, whose diameters are respectively DN88 and DN100.