Raw material

PVC

Standard

NBR 10844
Benefits
- Durability: resistant to weather and corrosion;
- Easy installation ensured by standard parts and simple assembly by just fitting the parts together, with eyebolts for direct mounting.
Features
- The Aquapluv Style line consists of gutters, downspouts and connectors produced in PVC with anti-UV additive that protects system parts against the action of sun rays;
- Available in colors: Beige and White. It adapts to different project styles;
- Gauge: 132 x 89mm;
- Secure fit of parts;
- Simple installation: connectors with eyebolts for direct mounting to the already existent fascia boards and seals;
- Brackets available in two versions: PVC and metallic, painted in the gutter color;
- Reference Standard: NBR 10844.
Instructions
The Aquapluv Style PVC Bracket is easy to install. In the case of Metal hanger + PVC bracket: set the hangers on the gutter sides at the same height, and adjust the bracket level by fixing the screws, to ensure the gutter slope. In these cases, the intermediate fittings will be sustained by the gutter, as there is no fascia board surface to support them. The gutter should be fitted in the brackets and the fittings already set on the fascia board or rafter: first fit the rear part and turn the gutter downwards. In the Product Data Sheet, you can follow the Aquapluv line step by step, consisting of gutter, downspouts and connectors.
ESPECIFICATIONS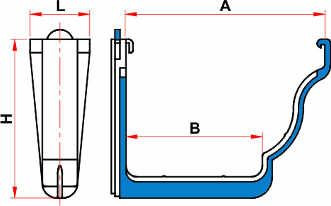 In conjunction with the Aquapluv Style Metal Rod or directly on a wood trim.