Raw material

Borracha

Standard

NBR 10844
Benefits
- Unique design;
- Greater flexibility for projects as it provides right and left end caps, as well as round and square downspouts;
- Easy installation due to standard parts, fixing and mounting parts with gasket joints and simple assembly by just fitting the parts together;
- Tigre Quality brings safety to those designing and installing the project;
- Durability: resistant to weather;
- In residences, a rainwater collection system allows a better flow of such water, preventing flooding, soil erosion and other problems;
- Durability: resistant to weather and corrosion;
- Perfect Sealing;
Features
- The Aquapluv line consists of gutters, downspouts and connectors produced in PVC with anti-UV additive that protects system parts against the action of sun rays;
- Available in colors: Beige and White. It adapts to different project styles;
- Gauge: 132 x 89mm;
- Secure fit of parts;
- Simple installation: connectors with eyebolts for direct mounting to the already existent fascia boards and seals;
- Brackets available in two versions: PVC and metallic, painted in the gutter color;
- Reference Standard: NBR 10844.
Instructions
Sealing using the Aquapluv Style Gutter Rubber Seal is made by fitting the rubber seal in the connector's groove. In the Product Data Sheet, you can follow the Aquapluv Style line step by step, consisting of gutter, downspouts, connectors and brackets.
ESPECIFICATIONS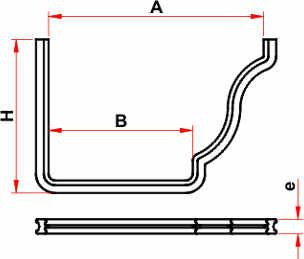 Yes, the sealing ring can be replaced and purchased separately.