Raw material

PVC

Diameter
(mm)

88

Standard

NBR 10844
Benefits
- Durability: resistant to weather and corrosion;
- Easy installation with mounting eyebolts;
Features
- The Aquapluv line consists of gutters, downspouts and connectors produced in PVC with anti-UV additive that protects system parts against the action of sun rays;
- Available in beige, adapts to different project styles;
- Vertical round downspouts;
- Gauge: 88 mm;
- Smooth internal surface;
- Secure fit of parts;
- Simple installation: connectors with eyebolts for mounting;
- Brackets available in two versions: PVC and metallic, painted in the gutter color.
- Reference Standard: NBR 10844.
Instructions
We recommend using your bands for every 3m of round downspouts. If necessary, use a prop to keep the downspout vertical during installation. The downspout round band is composed by an articulated band and a locking pin. First mount the band to the wall with screw and bushing. Next, mount the downspout and lock the band with the pin.
ESPECIFICATIONS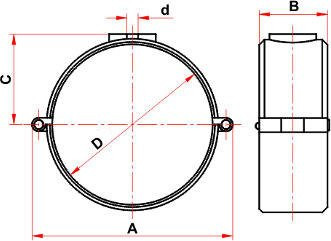 Yes, because in beige color, it is exactly the same piece for the two lines of gutters.