Benefits
- More space for installation;
- Smooth lines and unobtrusive finish;
- Organization and centralization of VDI equipment and connections;
- Flexibility in the installation;
- Durability;
- Convenience;
- Organization;
- Safety.
Features
- Made of flame retardant and insulated PVC in white;
- Flush and surface-mounted models in 4 different sizes (approx.): 20x20cm, 30x30cm, 40x40cm and 80x40cm;
- Door with 180° opening. Possibility to reverse the door opening direction;
- Inputs for rigid and flexible conduits (Tigreflex);
- Ventilation flaps on the frame to facilitate heat dissipation.
- Door made of PVC in white color with possibility of installation of a lock or latch;
- Mobile bottom plate made of PVC, with pre-holes for self-tapping screws and features for plastic or Velcro fasteners, which allow the attachment of connectors and telephony, data and TV devices;
- RJ support made of white PVC for 05 connectors RJ 11 (telephony) or RJ45 (data);
- 4.2 x 19 mm nickel-plated screws to attach the frame;
- Reference standards: NBR 5410 and NBR IEC 60670.
Instructions
The Structured Wiring Panel can be installed on masonry walls and drywall. In the Product Data Sheet or Technical Brochure, you will find the step-by-step installation instructions for each case.
Can I use the Structured Wiring Panel for small homes only?
The Structured Wiring Panel can be applied in different types of residences. The recent release of the 80x40 model allows for a greater connection of devices and points of network, telephony and television.
Can I install circuit breakers in the Structured Wiring Panel?
The Structured Wiring Panel is designed to house voice, data and image devices, so we do not recommend to use it for DPS or circuit breakers.
- Fabricado em PVC antichamas e isolante na cor branca;
- Modelos de embutir e de sobrepor em 4 tamanhos (aprox.): 20x20cm, 30x30cm, 40x40cm e 80x40cm;
- Porta com abertura em até 180°. Possibilidade de reverter sentido de abertura da porta;
- Entradas para Eletrodutos rígidos e flexíveis (Tigreflex);
- Aletas de ventilação na moldura para facilitar a dissipação e calor.
- Porta fabricada em PVC na cor branca com possibilidade de instalação de fechadura ou trinco;
- Placa-fundo móvel fabricada em PVC, com pré-furos para parafusos autoatarrachantes e rasgos para abraçadeiras plásticas ou velcro, que permitem a fixação de conectores e dispositivos de telefonia, dados e TV;
- Suporte RJ fabricado em PVC branco para 05 conectores RJ 11 (telefonia) ou RJ45 (dados);
- Parafusos Niquelados 4,2 x 19 mm para a fixação da moldura;
- Normas de Referência - NBR 5410 e NBR IEC 60670.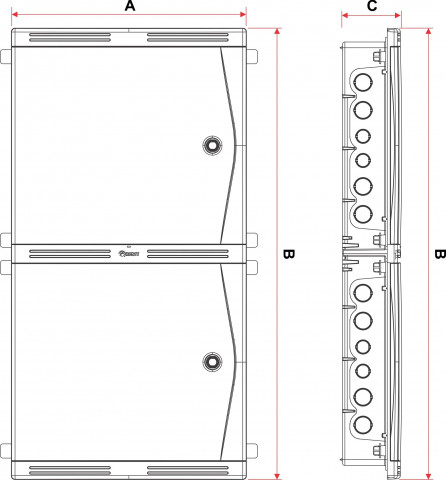 No, the frame has no brackets to house circuit breakers.