Meet the trajectory of Hansen, father and son that made Tigre become a symbol of success and a remarkable chapter in history of its employees.
Nowadays, one of the biggest companies in Brazil, Tigre keeps growing and perpetuating the entrepreneurial vision of its founders. A history about success and overcoming difficulties!
From a combs producer to the main industry of pipes and fittings, besides painting tools, PVC window frames and other products, Tigre was born from a dream and was solidified with visionary actions of Hansen's Family. Learn more about the lives of these important characters: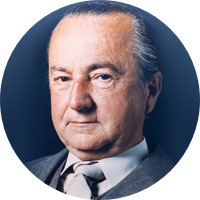 JOÃO HANSEN JUNIOR
João Hansen Jr. was born in 1915 in Joinville. João Carlos Bernardo Hansen, his father, was a weaver and believed that his son should follow a similar path. He hired a great tailor to teach him, but after a few days, the professional called João Carlos to say that his son was too smart and tailoring was not his real vocation. Then, at age 14, he got his first job as an office boy at Jasmin Perfumery. At age 19, in 1934, he was promoted to bookkeeper, and later to financial consultant. He studied Accounting and, in the 40s, became Jasmin's manager. At that time, João got responsible for regularize the documentation and of a company that was going through a tough time: Albano Koerber e Cia, which was the producer of Tigre combs, made of bull's horn. He got a loan with his boss and, at age 26, became the owner of the small factory of Tigre combs.
Since very young, João Hansen Junior was a respected and admired professional, and it was spreading and being stated by the company's growth over the years. The great entrepreneur always believed in the power of change and invested in plastic as an innovative material with many possibilities. It was a new raw material in Brazil that was being much more explored in Europe and the United States, then João diversified the production of combs factory with pipes, fans, cigarette and other plastic utensils.
Between 1952 and 1953, the company bought the first extruder machines and granulators, bringing the manufacture to a new phase of flexible plastic. After a trip to Europe to the Big Plastic Fair, something specific was in João's mind: the rigid PVC. He created the first line of threaded pipes with this material, then started a great revolution and break of paradigms, since few believed that there could be something better than iron pipes. Years went by and Tigre was even more consolidated under João's command, who also became famous for his pioneering marketing. João Hansen Junior started several advertising actions that nobody had thought about before (as demonstration pieces), in addition to creating Tigre Improvement School to train new professionals, Tigre Technical Guide and mobile training schools – the Tigrões"
Under the command of João Hansen Junior, Tigre was born, grew up and became reference in the business inside and outside our country. The company overcame geographic boundaries and took the little paw spirit to other states and countries.
In 1991, after finding heart issues, João Hansen Junior, back then with 76 years old, decided to step away from the business, and his son Carlos Roberto was confirmed as the CEO, taking also the presidency of the Board of Directors and JHJ Holding.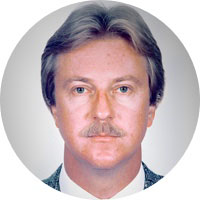 CARLOS ROBERTO HANSEN
Carlos Roberto, one of João Hansen Junior three children, was dearly called Cau. He was surrounded by the company affairs since he was little, but his character, open and friendly personality were the main factors for his professional success. He was director, vice-president and president of the Hansen Industrial holding between 1977 and 1991 and Tigre counselor since 1986, until he replaced his father in 1991.
In the moment he took the presidency, started the project of implementation of a participative management model, reducing hierarchical ideas and increasing teamwork, aiming the company's growth with a new management strategy.
His management was prematurely interrupted, but his work left legacies that persist to this day. He transformed the boss-employee relation much more close and open. He circulated by the factory, talked to the employees, was always concerned about the well-being of all, encouraged and sponsored his dear soccer club, Joinville Sport Club and thought about actions that involved the community as a whole.
While coordinating a strategic project of Tigre modernization, Cau died. He was traveling to Bogotá, Colômbia, in the year of 1994, when his airplane exploded in the middle of a storm.
His motto was "dream to build the future". Creating a social institute was one of his dreams that, unfortunately, couldn't come true, but in October 2003 the Carlos Roberto Hansen Institute was created in his honor, whose headquarter is linked to his old office in Tigre building. Cau left a legacy of humanity and strength that was brought forward with great determination by his wife Rosane Hansen.